How to Point a Domain to Blogger
How to Point a Domain to Blogger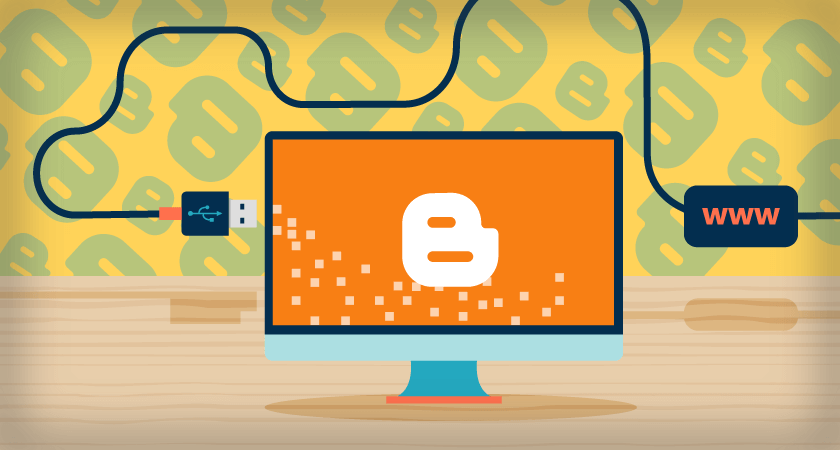 The
Blogger
(
old Blogspot
) is a free Google tool for publishing and sharing text, photos and videos on the Internet.
Generally, blogs are hosted by the giant on a
blogspot.com
subdomain
(for example:
www.meublog.blogspot.com
).
But they can also be hosted as a custom domain (such as
www.meublog.com
).
In this tutorial, you will learn
how
to domain your Blogger
.
As a reference to the steps below, let's
use the
hostingerbrendon.tk
domain
as an example.
What you will need to know how to put domain on Blogger
Before you know how to domain your Blogger, you will need the following:
A Blogger account.

A functional domain.

Access to a

DNS zone publisher

(you can contact your hosting provider or domain registrar for more details).
Step 1 - Adding 2 CNAME Records
The first step to knowing how to domain your Blogger is to find the required CNAME records.
From here, go to
Settings
>
Basic
>
Publishing
>
Setup a 3rd party URL for your blog
.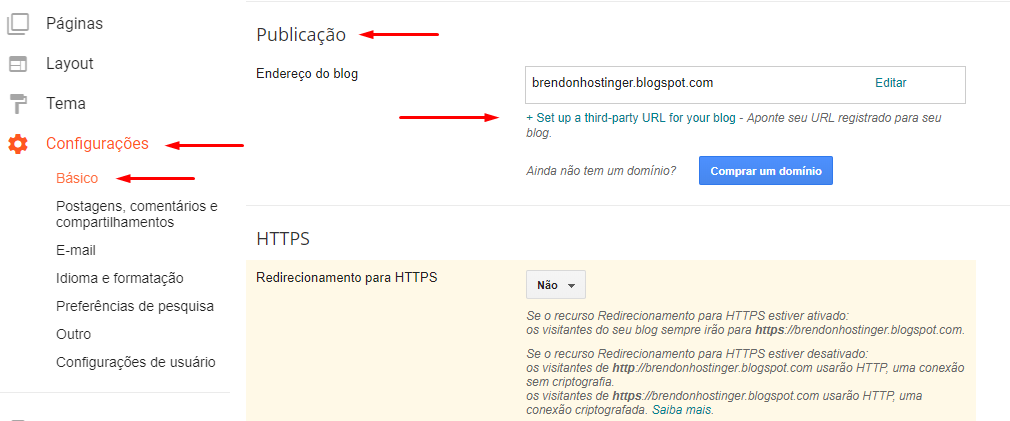 The domain must be in the format:
www.hostingerbrendon.tk
.
Then a message with the CNAME records to use will appear.
These records can be added using a DNS zone editor.
If you have any questions, contact your hosting provider or domain registrar.
In this example, we will use the Hostinger DNS Zone Editor.
After adding the records, save the changes and wait up to 24 until the full DNS propagation.
Remember that with this method your blog will be accessible only with www.
To be accessible with and without www, check out Step 2.
Step 2 (Optional) - Adding 4 A Records or Redirecting to www
This is an optional step to learn how to domain your Blogger.
That said, know that you are not required to execute it.
An extra step would be to add 4
A records
or redirect to
www
.
This way your blog will work with and without
www
.
If you skip this step, your visitors who visit without
www
may not see your content or see another page (depending on your current A record).
To avoid this situation, A records must be created for the following IPs:
216,239.32.21

216,239.34.21

216,239.36.21

216,239.38.21
See below for an illustration to guide you and add the 4 A records.

But be aware: Domain pointing propagation can also take up to 24 hours.
Now both the domain
ww w.hostingerbrendon. tk
and
hostingerbrendon.tk
will work.
You can also create a site redirection without www to the site with www, so A records are not required.
This can be done after you save your domain settings and click the
Edit
button in Blogger
Settings
.
How to put domain on Blogger
Conclusion
Congratulations!
You just learned how to domain your Blogger!
But remember: propagation can take up to 24 hours, so have a little patience.
If the blog is still not visible after this time, talk to your hosting provider or domain registrant to make sure the records are entered correctly.
Have any questions or suggestions for us?
Use the comments below to send us a direct message.
We'll love to interact with you and know what you think about this and other content!